If you're looking for affordable and necessary baby items that will be helpful during baby's first year, this list will be for you.
I'll be sharing my top 15 baby items I think you should add to your registry, which I have personally used with my daughter, and they're all less than $50 each.
Let's take a look.
This post contains affiliate links. Please see disclaimer for details.
1. Baby Nail Clipper
If you haven't already purchased one, I suggest you adding a baby nail clipper to your registry. Baby nails grow so fast and before you know it, you'll be trimming them every week!
I personally use the Safety 1st baby nail clipper above but any brand will do.
However, if you do get a different nail clipper, I recommend getting a smaller size compared to a regular size because smaller nail clippers are easier to work with.
2. Snot Sucker
During the first few months with baby, you will realize that having a snot sucker on hand will be more helpful than you anticipated.
I recall my daughter having mucus build-up often and each time I needed to remove them, I would use the NoseFrida snot sucker and it would always do the trick!
Don't forget about saline drops as well! They are particularly helpful when your baby has those crusty boogers that refuse to come out. I use the Little Remedies saline spray.
3. Baby Monitor
If you're the type of person who likes to get up and do things around the house, I suggest you adding in a baby monitor to your registry.
It'll be useful when you have guests over or if you'll be cleaning those dishes in the kitchen but do not want your little one to wake up.
We all know how it can be when you spend so much time putting your little one to sleep only to have him or her wake up because of one door squeak! Grrrr…
I use the VTtech's Baby Monitor and it works well with my daughter. All you need to do is connect the monitors and place each one in different rooms.
Every time my baby moved and cried, I would hear every little thing, which is great!
4. Bottle Rack
We all need the rack. A designated all-in-one place for bottles, nipples, breast pump accessories – you name it! Anything that needs to be washed and dried.
This is usually placed by my kitchen sink and stays there all day long with bottles hanging.
If you go without one, I'm pretty sure you'll be squeezing in a small place on the kitchen counter to dry those accessories.
Your friends and family can find this for less than $15 at your local retail store.
Personally, I have used and suggest the Munchkin Bottle Drying Rack but I also see other moms using the Boon Grass bottle rack, which is great for small spaces.
5. Zip-up Onesies
If you're new to all of this, you're going to love the zip-up onesies. 
With the zip-up onesies, you can easily change your newborn into multiple outfits without worrying about pulling the outfit through his or her head like the regular bodysuits below.
When I was pregnant, I purchased several packs of baby bodysuits only to regret the decision when I had my newborn. For 1) I was afraid to touch my tiny baby's head and 2) I was afraid I would accidentally hurt her.
But with no other choice, I sucked it up and eventually became a pro after a few times but if I could turn back time, I would much rather invest in zip-up onesies.
6. Baby Bath Tub
This is one of the many essential items you need during baby's first year because the day your baby arrives will be the day you are thankful you prepared a bath tub.
Of course, for the first few weeks you will be giving your newborn a sponge bath but after his or her umbilical cord stump falls off – then the bath tub it is!
I personally recommend the Fisher-Price 4-in-1 Sling 'n Seat Tub because as my daughter got bigger, she would often kick and move around causing her to easily slide down but the "baby stopper" prevented her from doing so, which was a big relief.
7. Infant Bath Towels
A great item you can add to your baby registry is the infant bath towels. I love infant bath towels because it's light-weight, softer on baby's skin, and smaller to fit baby's size.
With regular adult towels, they are more bulky and harder to handle because you will be carrying baby back and forth between rooms (bathroom and bedroom) so if you are needing something that is more convenient, then infant bath towels will be the solution.
I used Target's Cloud Island hooded bath towels as they are very soft and easy on the skin.
8. Car seat cover
One thing most parents forget is a car seat cover. With a car seat cover, you can protect your baby from wind exposure during windy days and can be particularly useful in the Spring or Winter.
I had my daughter in October so this was one of the best investments I've made to ensure my daughter was kept warm and safe.
9. Electric nail filer
Earlier I mentioned the need for a baby nail clipper but I also want to share this neat tool I came to love when trimming baby's nails: the electric nail filer.
The electric nail filer is one of my favorite tools because I can trim baby's nails at night without worrying about hurting or clipping the fold and edge of her fingernails.
The nail filer can also be used for adults as well, which is why the nail filer comes with multiple grinding heads.
Yellow: 0-3 months
Pink: 4-11 months
Blue: over 12 months
White: for polishing the toenails or fingernails
Stainless grinding head: for adults to polish the nail
Cylinder: for adults to polish the edge of the nails
It is ideal for moms who are not yet comfortable trimming tiny tails and want to rest assure when doing so.
10. Burp cloths or Bibs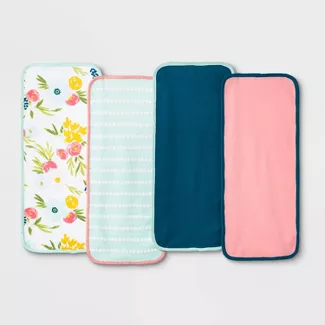 Source: Target.com
Burp cloths and bibs is the #1 most helpful item during baby feedings because you will be burping baby after every feeding to get rid of air that your little one may have swallowed.
If you don't burp baby after feedings, it is likely that he or she can spit out or become gassy.
During the first three months, I lived and breathe burp cloths and bibs. I have it on my bed, in the living room, on the counters, sofa, and everywhere throughout the house.
In preparation for feeding sessions, having more than one burp cloth or bib will save you from potential messes in the house.
11. Diapers + Baby Wipes
Are you planning to use cloth diapers or disposable diapers? Regardless of your choice, it is always better to have as much diapers as possible because the more you have, the less you will worry about shortage.
They also tend to be one of the most expensive costs in baby's first year so adding this to your registry can lessen the financial burden while you worry about other expenses.
Don't forget that baby wipes go hand-in-hand with diapers.
You'll also need boxes of wipes, which will last longer than diapers, but are still good to have. Or if you are concerned about the ingredients used in diaper wipes, you can make your own diaper wipes using water, baby oil, and baby shampoo.
12. Baby Thermometer
A newborn is vulnerable to viruses and illnesses and will most likely get sick in their first year, which is why you need a baby thermometer to monitor their temperature.
Preparing a baby health kit is recommended so that you have all essentials you need.
According to the American Academy of Pediatrics, a rectal thermometer is most recommended for children less than 3 years old because it gives the best reading but you may also use other types of thermometers.
I have the Vick's Baby Rectal Thermometer as part of my health kit and often use it with a lubricant before taking my daughter's temperature.
13. Baby Shampoo and Body Wash
Your baby bath essentials are still incomplete! Make sure you add baby shampoo and body wash to your registry.
During pregnancy, I was able to stock up a whole cabinet full of baby wash and shampoo using coupons, allowing me to save money for more than a year after I already had my daughter.
I personally love baby shampoo with the smell of Lavender because it promotes relaxation and reduces stress in babies during bath times. There will be days where your baby can be fussy and stressed and having Lavender shampoo on hand can calm baby's mood.
14. Backpack Diaper Bag
Need a place to hold all your baby items while you're out of the house? How about a backpack diaper bag!
A backpack diaper bag have become a popular item among moms because it's easier to carry and less heavy when wearing on your back. With a newborn, you'll be carrying several items at once and need a good and sturdy bag that will do the work.
A few things I often carry with me include a small blanket, a few outfits to change (for poop accidents), bottles, formula, health care items, diapers, plastic bags, etc..
15. Baby Blankets or Receiving Blankets
Source: Walmart.com
Blankets are my all-time fave. You can never have enough because you can be using one blanket once and then putting it in the washer next.
Make sure you have a variety for different needs. For example, you can use a plush blanket when it is cold or chilly and then use a receiving blanket during hot and humid seasons.
I personally use receiving blankets the most because it helps baby sleep better during naps and nighttime and can be used to calm their mood.
Oh, and one more thing.
If you like this post, please share with your family and friends as other moms may find it helpful too!
DOWNLOAD FREE PRINTABLES!
Gain instant access to my personal collection of 30+ printables for topics such as pregnancy, baby, finance, and more. Plus - get monthly printables sent straight to your inbox.